ENERGY STAR® Refrigerators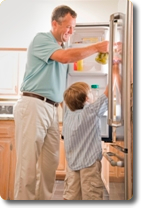 New Jersey residents may be eligible to receive a $50 rebate for the purchase of a select ENERGY STAR qualified refrigerator.
Replace your old fridge for bigger savings!
An estimated 170 million refrigerators and refrigerator/freezers are currently in use in the United States. More than 60 million refrigerators are over 10 years old, costing consumers $4.4 billion a year in energy costs.
Use the ENERGY STAR Savings Calculator to find out exactly how much money you'll save by replacing your existing refrigerator.
*These refrigerators must be 25% or better than the 2001 federal standard.
Application Form
Refrigerator Application - for purchases made between July 1, 2014 and June 30, 2015.
Refrigerator Application - for purchases made between July 1, 2013 and June 30, 2014. Your completed application must be postmarked no later than July 31, 2014 to receive a rebate.
Retailer Instant Rebates
A limited number of stores are able to provide the $50 rebate instantly at the register. If you receive an instant rebate, you do not qualify for the mail-in rebate.
Additional Opportunities to Save
Are you wondering what other rebates might be available? Visit our Rebates and Promotions page.
Questions About Your Rebate?
Do you have a question about a rebate? Please contact us at 866-NJSMART. You may also submit your question online.
Please allow up to 120 days to receive a rebate.