ENERGY STAR® Refrigerators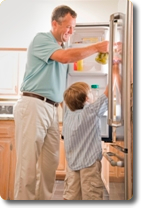 New Jersey residents may be eligible to receive a $50 rebate for the purchase of an ENERGY STAR qualified refrigerator that is 25% or better than the minimum federal standard.
Replace your old fridge for bigger savings!
An estimated 170 million refrigerators and refrigerator/freezers are currently in use in the United States. More than 60 million refrigerators are over 10 years old, costing consumers $4.4 billion a year in energy costs.
Use the ENERGY STAR Savings Calculator to find out exactly how much money you'll save by replacing your existing refrigerator.
Refrigerator Rebate Requirements
Incentive
Amount
Product
List
Specifications
$50
ENERGY STAR Refrigerators

Refrigerators must be ENERGY STAR qualified AND also be 25% or better than the federal standard. Both conditions must be met in order to qualify. Please click on the link to the left for a list of qualifying refrigerators.
Application Form
Refrigerator Application - for purchases made between July 1, 2014 and June 30, 2015.
Refrigerator Application - for purchases made between July 1, 2013 and June 30, 2014. Your completed application must be postmarked no later than July 31, 2014 to receive a rebate.
Retailer Instant Rebates
A limited number of stores are able to provide the $50 rebate instantly at the register. If you receive an instant rebate, you do not qualify for the mail-in rebate.
Additional Opportunities to Save
Are you wondering what other rebates might be available? Visit our Rebates and Promotions page.
Questions About Your Rebate?
Do you have a question about a rebate? Please contact us at 866-NJSMART. You may also submit your question online.
Please allow up to 120 days to receive a rebate.