New Jersey ENERGY STAR Homes
There are over 1.5 million homes in the United States that have been built to ENERGY STAR standards. The ENERGY STAR label on a new home means:
It has been designed and built to standards well above most other homes
Better quality, wall to wall comfort and durability
Better value for today and a better investment for tomorrow
Better process for inspections, testing and verification to ensure that it meets strict requirements set by EPA
High-performance heating and cooling, energy-efficient windows, and tighter construction
Less energy use and overall savings
An ENERGY STAR certified home can help you save about $200 to $400 a year on utility bills.
Take a Tour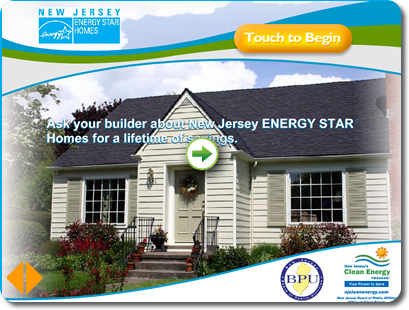 Built with energy-efficient systems and measures, a New Jersey ENERGY STAR Home is certified by the Environmental Protection Agency (EPA) to be at least 15%-50% more energy efficient than a standard home. Best of all, any builder is eligible to participate in the program.
There are different levels of energy efficiency when building new homes:
New Jersey ENERGYEfficient Homes (Tier 1) These homes have energy efficient characteristics and save about 15% more energy than a traditionally built home, yet do not meet ENERGY STAR standards under the EPA.
New Jersey ENERGY STAR Homes (Tier 2) meets the EPA's version 3.0 requirements, which means these homes are 20-25% more energy efficient than traditionally built homes and meet all EPA ENERGY STAR Homes standards.
Climate Choice Homes (Tier 3) promote innovation in building design, materials, techniques, and operation in order to achieve energy savings of at least 50% before the addition of on-site renewable energy generation. The Climate Choice Homes (CCH) tier encourages the construction of homes that use advanced, high efficiency building products, practices, lighting, appliances and renewable energy.
NOTE: As of November 1, 2014, the underlying base standards of the third tier of the New Jersey ENERGY STAR Certified Homes Program, Climate Choice Homes, will be changed. Tier 3 standards will be replaced to align with the Department of Energy's Zero Energy Ready Homes.
Hurricane Sandy Relief
To help New Jersey recover from Hurricane Sandy's impact, the Smart Growth requirement to obtain incentives for qualified projects was waived. Projects enrolled on or after October 29, 2012 were waived within Hurricane Sandy designated storm damaged areas.
Note: Effective June 7, 2013, the Smart Growth requirement was waived for all new construction projects that did not commence construction prior to June 7, 2013.
If you are not building a new home or not doing full gut rehab on your home, please visit Home Performance with ENERGY STAR to make your existing home more energy efficient.