Water Heaters
The WARMAdvantage Program provides rebates towards the purchase of qualifying high efficiency water heaters. To be eligible, you must purchase, install, and operate a unit that meets all applicable efficiency requirements. Call 866-NJSMART or see below for detailed information.
MAKING THE RIGHT CHOICE FOR YOUR HOME, YOUR FAMILY AND THE ENVIRONMENT IS EASIER THAN YOU THINK.
In emergency situations, water heaters are replaced in haste based solely on storage tank size. Many times homeowners purchase the same size tank as the previous unit. By preparing yourself with some basic information, you will be able to make an informed decision regarding the best water heater for your home.
1. Energy Efficiency
All water heaters have an Energy Factor (EF) rating. The EF measures how efficiently your water heater burns gas.
2. First-Hour Rating (FHR)
The FHR measures how much hot water the unit will deliver during a high-demand hour. Your installer can help you calculate the appropriate FHR to meet your household needs.
3. Equipment Capacity
An oversized water heater wastes energy when not in use. Make sure your installer helps you choose a system sized to meet your family's needs.
Follow these easy steps when purchasing and installing a water heater for your home.
Choose a tank size that will efficiently meet your household's hot water needs.
Install your new system in a place where it is easily accessible and can be maintained.
Make sure your water heater is properly vented and insulate at least the first 15 feet of your hot water pipes.
Talk to your installer about the maintenance requirements of your new equipment and have your installer show you how to perform basic maintenance tasks.
Does your water heater look like this?
If so, it's a gas water heater and you should read the information below.
Number "1" is pointing to what you might call the chimney.
Number "2" is the gas pipe.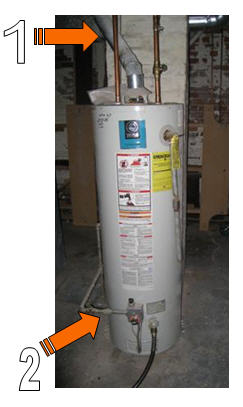 If you have a venting system that looks like this your water heater is an atmospherically vented gas burning appliance. These are very common, over 90% of the homes that make hot water with gas use this style.
Often these types of water heaters are vented in combination with another appliance, most commonly a furnace or boiler. Some homes have high efficiency furnaces or boilers vented separately from traditional water heaters.
This leaves what is referred to in the industry as an "orphaned water heater". Most orphaned water heaters send products of combustion (smoke) up the "chimney". For various reasons, some may vent products of combustion to the inside of the home instead of up the vent and outside.
Doing a visual inspection of the vent (metal chimney) and looking for rust is something you can do yourself. Rust is often a sign of drafting (venting) problems. But just because there are no visual signs does not guarantee your gas burning appliances are venting properly.
Have your heating professional check to be sure your water heater and any other atmospherically drafted appliances are venting properly, especially if your water heater has #1 and #2 as shown above.
When you are ready to replace this water heater, consider a power-vented water heater which will be eligible for a rebate.
If you have any questions or concerns please call us at 866-NJSMART.