Hurricane Sandy Information
After Hurricane Sandy
Helping New Jersey Recover. Restore. Rebuild.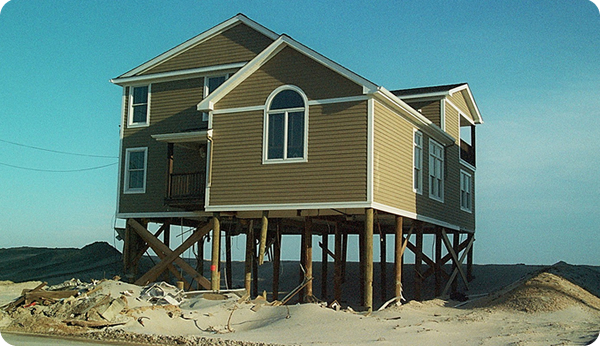 Photo Credit: http://flic.kr/p/dHWaf1
Are you a New Jersey resident, business owner or local government official recovering from the damage of Hurricane Sandy?
New Jersey' Clean Energy Program is here to help with temporary financial incentives that will help you recover.Please note this program will end for residents on July 31, 2016.

Homeowners
If your home is located in a zip code designated as a "major" or "minor" damaged area impacted by Hurricane Sandy, you may be eligible for enhanced incentives on high efficiency equipment/appliances.
If you are located outside the eligible zip code list, you may also qualify for increased incentives by demonstrating that you have experienced damage caused by Hurricane Sandy. Applications for Hurricane Sandy relief incentives outside the eligible zip code list will be reviewed on a case by case basis.
Frequently asked questions are also available to help clarify what is available.
In order to receive an enhanced Hurricane Sandy relief incentive, a Homeowner Certification Form must be completed and attached to the proper rebate application. The links below will take you to the page where the applications are located.
IMPORTANT: If you have already submitted an application, you only need to submit a Homeowner Certification Form. However, new submissions require both an application (links below) AND a Homeowner Certification Form.
Furnaces, Boilers, Heat Pumps, Gas Water Heaters, Central Air Conditioners and Mini-split Units

In addition to existing rebates, an additional $200 will be applied for those submitting a Homeowner Certification Form along with the original rebate application. Incentives may also be available from your gas utility (check with your utility for more information).
Businesses & Local Governments
Incentives available through NJ SmartStart Buildings are currently discontinued for fiscal year 2016 (July 1, 2015 through June 30, 2016).
Additional enhancements for buildings located in Hurricane Sandy areas include modifications to standard program requirements.
Pre-inspections and pre-approvals were waived where appropriate, as were equipment inventory requirements for those with proof of existing conditions (i.e. maintenance records, recent photographs and energy audit reports).
Restrictions on performance lighting measures in major rehabilitation projects were eliminated.
Planned discontinuation of incentives for premium motors and T12 lighting were extended from March 1, 2013 to June 30, 2014 for Sandy Relief participants only.
Applicants were required to check the list of zip codes in "major" and "minor" affected areas to ensure their eligibility. For facilities outside of the eligible list, additional documentation was requested demonstrating the facility was damaged due to Hurricane Sandy.
Following confirmation of eligibility, customers would complete the Hurricane Sandy Certification Form (e-form or regular form version) along with an application(s) for the NJ SmartStart Buildings energy efficiency measure for the project (e-forms or regular form versions).
Questions? Call us at 866-NJSMART (866-657-6278).
Your Power to Save
Call us at 866-NJSMART for information on these and other energy-saving programs for your home or business.
New Jersey's Clean Energy Program
44 South Clinton Avenue | PO Box 350 | Trenton, NJ 08625