Set-Top Box
The biggest energy drain in your house likely isn't the fridge, air conditioner or heater - it is, unbelievably, the TV set-top box. However, new standards will improve set-top box efficiency by 10% to 45% by 2017 and are expected to save more than $1 billion on consumer energy bills.
Currently, set-top boxes may dim when they are turned off, but they are never powered down unless they are unplugged. They continue to use electricity so the service provider can send software and programming updates. New ENERGY STAR qualified cable and satellitte boxes will be more efficient than conventional models, and must have a "sleep" mode, dropping the energy consumption from about 16 watts to 2 watts or less.
If all set-top boxes in the U.S. met ENERGY STAR requirements, consumer energy cost savings would grow to about $3 billion each year, reducing greenhouse gas emissions equivalent to those from about 3 million cars.
What should you know about choosing ENERGY STAR qualified Set-top Boxes?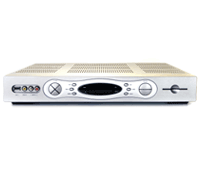 Most set-top boxes and cable boxes are given to consumers as part of their contract with a service provider, rather than sold independently at retail stores. So, when you are deciding on a cable or satellite service, be sure to ask the service provider for an ENERGY STAR qualified set-top box.
If you currently have cable or satellite service, check with your service provider to find out what, if any, upgrade options are available.
Advanced Power Strips Can Help
Advanced power strips feature color-coded outlets that correspond to different kinds of devices, as well as some with outlets that never turn off. You might use that latter outlet to power your DVR, for example. You'll never miss your favorite show and still save money.
Once your advanced power strip is installed, you've succeeded in cutting vampire power to your secondary devices. If you want to cut vampire power to your other devices as well -- for example, to your TV when you're going away for a few days -- you can simply switch the strip to "Off," just as you would on a conventional power strip.

How does an Advanced Power Strip work?
Advanced power strips offer the same benefits as standard power strips, except they include three distinct outlets designed to save you energy and money:

Primary Outlet
The primary outlet acts as the "control" or "master" outlet because it turns off the power to secondary outlets when the device connected to it is turned off. The primary outlet is typically used for your TV or computer's central processing unit, since other devices connected to the power strip depend on either your TV or computer for their functionality. For example, you need to turn on your TV in order to watch DVDs from your DVD player.

Secondary Outlet
The secondary outlet acts as the "controlled" outlet and is for peripherals devices, such as your DVD player, game console, or computer monitor. When the device connected to the primary outlet is turned off, the power will automatically be turned off to the device connected to the secondary outlet. For example, turning off your television would automatically eliminate the power to your DVD player or game console.

Always On Outlet
The always on outlet is not controlled by the primary outlet. Devices plugged into the always on outlet will receive constant power which is necessary for devices such as set-top boxes or modems.