Furnaces
Utility customers who purchased HVAC equipment prior to July 1, 2021 may still submit their applications to NJCEP's WARM/COOL Advantage Program for heating, cooling, and water heating equipment. Customers will have 180 days from the purchase date to submit their rebate.

Note that HVAC equipment purchased on or after July 1, 2021 may be eligible for utility-run rebate programs. Please contact your utility for program requirements and information on how to apply.
To learn more about this transition and for utility contact information please visit this page.
The WARMAdvantage Program provides rebates for qualifying high efficiency furnaces or boilers. To be eligible, you must purchase, install, and operate home heating systems that meet all program requirements.
For a status update of processing COOL and WARMAdvantage applications, please visit the HVAC Portal landing page. At this time it could take up to 150 days to receive your rebate.
NEW! For faster processing Apply Online
It is highly recommended that customers or contractors submit applications online for quick and easy submissions. The HVAC portal may also be accessed and utilized via Tablet and Smart Phones (Android, iPhone).
Rebate Levels
Furnaces**
Equipment
Type
Minimum
Efficiency Level
Rebate for units purchased October 1, 2020 through June 30, 2021
Gas Furnace Tier 1

AFUE* 95% or greater

$250

Gas Furnace Tier 2
AFUE 97% or greater

$500

Oil Furnace
AFUE 85% or greater

$250

*AFUE (Annual Fuel Utilization Efficiency)
Combination Furnace & Water Heater Rebate
Equipment
Type
Minimum
Efficiency Level
Rebate for units purchased October 1, 2020 through June 30, 2021
Install a qualifying Gas Furnace noted above and:
Combination Rebate
A qualifying standalone water heater

$700


w/ Tier 1

$950
w/ Tier 2
Enhanced Incentives

Please note that all homeowners located in a designated Urban Enterprise Zone (UEZ) may be eligible for an additional $200 incentive per unit for the purchase of qualifying equipment (above). Verification of homes being located in a designated UEZ required. Also, low to moderate income (LMI) residents or projects identified as an affordable housing project may be eligible for an incentive of $200 per each eligible measure. Residents may benefit from only one bonus incentive: UEZ, LMI or affordable housing incentive. Apply here for the LMI incentive. Visit the eligible measures document for the affordable housing definition.
Note: The State Energy Program (SEP) funding threshold has been met and therefore we are no longer accepting and processing SEP applications for oil, propane and municipal electric customers.
Homes constructed under NJ's Residential New Construction Program are not eligible for WARMAdvantage Program rebates.
Does your water heater look like this?
If so, it's a gas water heater and you should read the information below.
Number "1" is pointing to what you might call the chimney.
Number "2" is the gas pipe.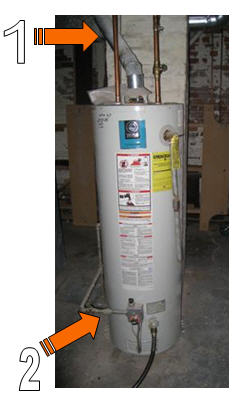 If you have a venting system that looks like this your water heater is an atmospherically vented gas burning appliance. These are very common, over 90% of the homes that make hot water with gas use this style.
Often these types of water heaters are vented in combination with another appliance, most commonly a furnace or boiler. Some homes have high efficiency furnaces or boilers vented separately from traditional water heaters.
This leaves what is referred to in the industry as an "orphaned water heater". Most orphaned water heaters send products of combustion (smoke) up the "chimney". For various reasons, some may vent products of combustion to the inside of the home instead of up the vent and outside.
Doing a visual inspection of the vent (metal chimney) and looking for rust is something you can do yourself. Rust is often a sign of drafting (venting) problems. But just because there are no visual signs does not guarantee your gas burning appliances are venting properly.
Have your heating professional check to be sure your water heater and any other atmospherically drafted appliances are venting properly, especially if your water heater has #1 and #2 as shown above.
When you are ready to replace this water heater, consider a power-vented water heater which will be eligible for a rebate.
Contact us at 866-NJSMART or submit your question online.
Important:
Please allow up to 150 days from the date we receive all required information to process your rebate. To expedite the processing of your application, please be sure to review the instructions carefully and provide all required information and materials.