Heating & Cooling Equipment Rebates
Did you know that heating and cooling costs the average homeowner about $875 a year - nearly half of the home's energy bill? If your heating or cooling system is more than 12 years old, it is probably time to replace it with a new, properly sized unit.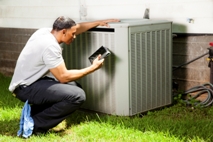 New Jersey's Clean Energy Program offers incentives for the purchase of energy efficient, qualifying heating and cooling equipment. Rebates are available for the purchase of furnaces, boilers, heat pumps, water heaters, ductless mini-split systems and central air conditioners.
Make the Right Choice
Consider hiring a properly trained contractor. NATE certified or Building Performance Institute (BPI) GoldStar contractors are highly skilled and will install your cooling systems bringing you peace of mind and comfort. Visit the Eastern Heating and Cooling Council's website for a current list of NATE certified contractors or review the list of BPI GoldStar contractors. We recommend obtaining at least three price quotes before selecting a contractor. Bids should include costs for labor, materials, permits/fees and disposal.
Properly Sized Equipment
Most heating and cooling equipment is significantly oversized. Buying a system sized properly for your home provides more comfort and efficiency, while maximizing your investment. When making a replacement, simply updating your system with the same size equipment may not give you the best results. Ask your contractor to recommend the proper size equipment for your home.
Home Cooling Equipment
($300 to $500 Rebates)
Home Heating Equipment
($250 to $500 Rebates)
Home Water Heating Equipment
($300 to $950 Rebates)
Applications
Visit this page to download an application for the equipment you purchased.