Appliance Recycling Program
Notice: Recycling Program Has Reopened
The appliance recycling program has recently reopened for business!
Please note that the recycling pickups are now contactless, which means your appliance(s) will be picked up either outside or in an open garage. We are following this procedure for the near future to ensure your safety. Click on the icon below to schedule your next appointment.

We can help you responsibly recycle your working refrigerator and/or freezer for FREE and provide a $50 incentive. You'll be glad to know that approximately 95% of each appliance is recycled. We safely dispose of hazardous chemicals, minimizing waste and environmental impact.
We are now expanding the eligible appliances to include removal of working room air conditioners and dehumidifiers. You will receive a $25 incentive for each unit recycled; however, the room air conditioners and/or dehumidifiers must be picked up during the same appointment as the refrigerator or freezer. See below for qualifying details.
It Just Makes Sense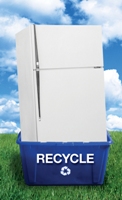 Consider these important facts:
On average a newer refrigerator or freezer consumes 1,000 fewer kWh annually than a refrigerator or freezer manufactured before 1990.
Recycling 20,000 older refrigerators or freezers results in energy savings equal to the amount of power used in approximately 1,400 homes or removing 40,000 cars from the road for one year.
To date New Jersey residents have recycled over 65,000 units, which saves approximately 65,000 megawatt hours of electricity. This is enough to power 4,550 homes for an entire year.
Find out how much your refrigerator or freezer costs to operate. You can save up to $150 a year on energy costs.
New Jersey's Clean Energy Program is proud to be a Responsible Appliance Disposal Program Partner with the EPA.
Promotion Dates
This offer is valid through June 30, 2021 and is available to residential customers of Atlantic City Electric, JCP&L, PSE&G and Rockland Electric.
Rebate Levels
For turning in your appliance(s), you will receive a $50 incentive for each qualifying refrigerator and/or freezer. You may receive a $25 incentive for a room air conditioner or dehumidifier recycled at the same time as the refrigerator/freezer pick up (up to the maximum limit of two refrigerators and/or freezers, two room air conditioners and two dehumidifiers per calendar year). The units must be working at the time of pickup. Rebate checks are mailed approximately 120 days after the pick-up.
Refrigerators and freezers must be between 10 and 30 cubic feet in size. Room air conditioners must be removed from windows, and dehumidifiers should be drained of water.
All appliances must be owned by the customer and operational at the time of pick up.
You must provide clear and safe access to your appliance(s) for the removal team as they have to be placed either outside or in an open garage. Personnel will not risk injury, or be able to move personal effects, or otherwise modify your home (e.g., remove door or railings) to remove the unit.
See more details online or call the call center at 866-NJSMART.
Bulk Appliance Recycling
Buildings with at least five dwelling units can access rebates when recycling five or more working refrigerators,freezers, room air conditioners or dehumidifiers. Visit this page for more details.
EPA's RAD Program
New Jersey's Clean Energy Program is a proud Responsible Appliance Disposal (RAD) Program partner. Since joining RAD in 2018, NJCEP has responsibly disposed of 3,215 refrigerators, 460 freezers, 510 room air conditioners and 234 dehumidifers, which saved 24 million kWh or $3.8 million of consumer savings.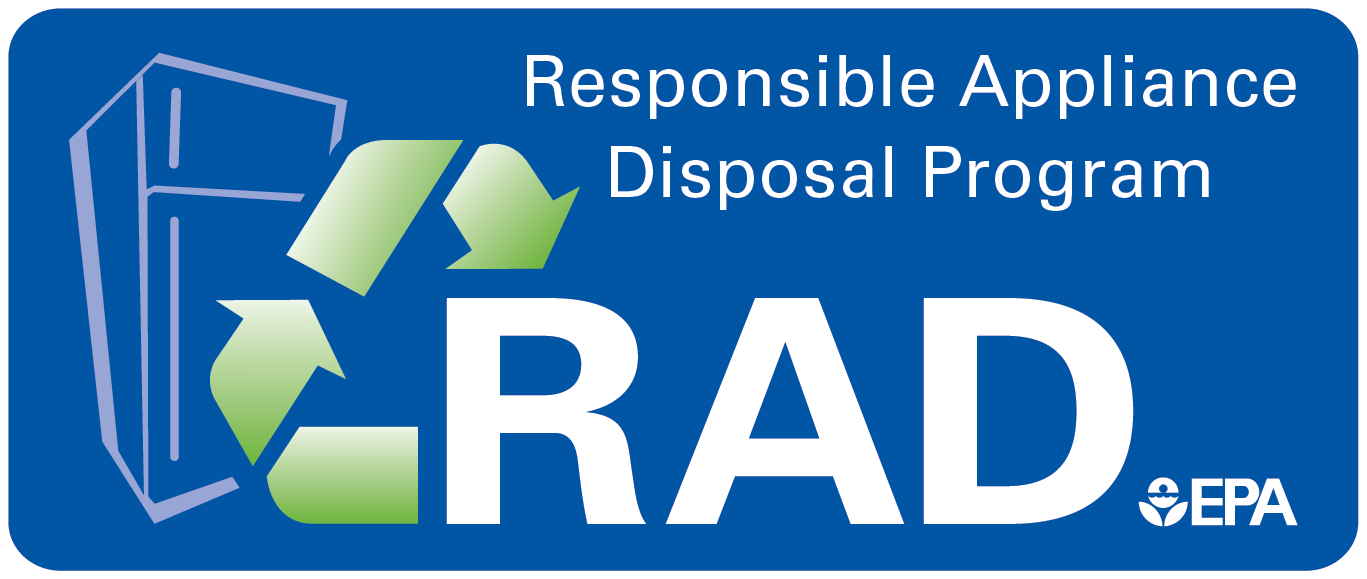 Additional Opportunities to Save
Are you wondering what other rebates might be available? Visit our Rebates and Promotions page.