Showerheads and Weatherization
Showerheads

Showering is one of the leading ways we use water in the home, accounting for nearly 17 percent of residential indoor water use—for the average family, that adds up to nearly 40 gallons per day. That's nearly 1.2 trillion gallons of water used in the United States annually just for showering, or enough to supply the water needs of New York and New Jersey for a year! By retrofitting your shower with a WaterSense labeled showerhead, you can save a considerable amount of this water and the energy needed to heat the water.
Weatherization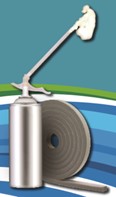 Insulating your home with spray foam can stop drafts and help to reduce your energy bills. The warm air will stay in your home in the winter and the cool air won't escape in the summer.
Door sweeps help to seal the bottom of an outside door to prevent air leaks.
Using door seal (weatherstripping) around the edges of your outside door provides additional help to retain heat in the winter and cool air in the summer.