NJ SmartStart Buildings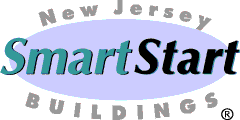 Program Overview
With New Jersey SmartStart Buildings …
A smart start now means better performance later! Whether you're starting a project from the ground up, renovating existing space, or upgrading equipment, you have unique opportunities to upgrade the energy efficiency of the project.
New Jersey SmartStart Buildings can provide a range of support to yield substantial energy savings, both now and for the future at no cost to you. Financial incentives are available for size projects which can offset some - or maybe even all - of the added cost to purchase qualifying energy-efficient equipment.
Learn more:

Buildings owned or operated by Municipalities, Counties, K-12 Public Schools, located in a UEZ or OZ zone, or that constitute Affordable Housing may be eligible for an enhanced incentive. See details and eligibility requirements on the SmartStart applications linked above (enhanced incentives are not applicable to new construction projects).
Revised Application and Eligibility Process for FY20

We have made it even easier to participate! Pre-approval is no longer required for prescriptive measures with the exception of Prescriptive and Performance Lighting and Lighting Controls Applications with an incentive ≥$100,000 and Custom Measures. Please note that anyone who purchases and installs equipment without Program Manager approval does so at his/her own risk.
Customer Tailored Energy Efficiency Pilot Program (CTEEP)
CTEEP supplements the SmartStart program by offering a streamlined approach to developing and implementing energy efficiency projects. Designed for mid to large customers, multiple prescriptive and custom measures may be bundled into one application submission. Learn more.