NJ SmartStart Buildings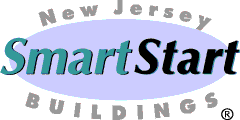 Program Overview
With New Jersey SmartStart Buildings …
A smart start now means better performance later! Whether you're starting a project from the ground up, renovating existing space, or upgrading equipment, you have unique opportunities to upgrade the energy efficiency of the project.
New Jersey SmartStart Buildings can provide a range of support to yield substantial energy savings, both now and for the future at no cost to you. Financial incentives are available for any size project, which can offset some - or maybe even all - of the added cost to purchase qualifying energy-efficient equipment. Learn more:

Buildings owned or operated by Municipalities, Counties, K-12 Public Schools, located in a UEZ or OZ zone, or that constitute Affordable Housing may be eligible for an enhanced incentive. See details and eligibility requirements on the SmartStart applications linked above. Note: Performance Lighting, Prescriptive Lighting and New Construction projects are not eligible for enhanced incentives.
New: Indoor Horticulture Incentives
Upgrade your indoor farm or greenhouse with single-measure rebates. Utilize the new horticultural lighting prescriptive rebates for LED fixtures to maximize plant growth potential and reduce your utility costs and/or integrate other energy efficient technologies through our custom incentives. Read our Indoor Horticulture fact sheet to know the details of the incentives and learn how you can bundle multiple measures into one application through our CTEEP or P4P programs. Learn More.
Eligibility Process for FY21
We have made it even easier to participate! The chart below identifies the application requirements for pre-inspection or waiver of pre-inspection from the Program Manager:
FY21 Eligibility Process
Measure
Type
Equipment is subject to pre-inspection and application must be submitted prior to installation
Equipment may be installed prior to application submission at customer risk
Custom Measures

Prescriptive Lighting, Performance Lighting and Lighting Controls projects with incentives < $100,000
Prescriptive Lighting, Performance Lighting and Lighting Controls projects with incentives > $100,000

Measures meeting prescriptive measure requirements including Variable Frequency Drives, Food Service Equipment, Gas Heating, Gas Cooling, Gas Water Heating, Electric Chillers, Electric Unitary HVAC, Ground Source Heat Pump and Refrigeration Controls, Doors/Covers and Motors.
To be eligible for incentives, the application must be submitted to the Program Manager within 12 months of equipment purchase.
All applicants are encouraged to obtain the Program Manager's approval and an incentive commitment prior to commencing installation or construction. Customers implementing projects without the Program Manager's approval do so at their own risk, including, among other things, the risk of having their project deemed ineligible for incentives.
Customer Tailored Energy Efficiency Pilot Program (CTEEP)
CTEEP supplements the SmartStart program by offering a streamlined approach to developing and implementing energy efficiency projects. Designed for mid to large customers, multiple prescriptive and custom measures may be bundled into one application submission. Learn more.