NJ SmartStart Buildings
Program Overview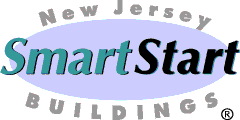 With New Jersey SmartStart Buildings …
… A smart start now means better performance later! Whether you're starting a commercial or industrial project from the ground up, renovating existing space, or upgrading equipment, you have unique opportunities to upgrade the energy efficiency of the project.
Special Notice
Enhanced incentives are available for NJ SmartStart Building upgrades in buildings impacted by Hurricane Sandy. Eligible projects receive an additional 50%.
New Jersey SmartStart Buildings can provide a range of support — at no cost to you — to yield substantial energy savings, both now and for the future. Learn more about:
Please note: pre-approval is required for all energy efficiency incentives. This means you must submit an application form (and applicable worksheets) and receive an approval letter from the program before any equipment is installed (click here for complete Terms and Conditions.) Upon receipt of an approval letter, you may proceed to install the equipment listed on your approved application. Equipment installed prior to the date of the approval letter is not eligible for an incentive. Any customer and/or agent who purchases equipment prior to the receipt of an incentive approval letter does so at his/her own risk.
Getting Started
Submit your project application form as soon as you know you will be doing a construction project, or replacing/adding equipment.
Apply for pre-approval by submitting an application for the type of equipment you have chosen to install. The application should be accompanied by a related worksheet, where applicable, and manufacturer's specification sheets (refer to the specific program requirements on the back of the application for specs needed for your project) for the equipment you are planning to install. (Program representatives will review your application package and approve it, reject it, and/or advise you of upgrades in equipment that will save energy costs and/or increase your incentives.)
Support for Custom Energy-Efficiency Measures
Custom measures allows program participants the opportunity to receive an incentive for unique energy-efficiency measures that are not on the prescriptive equipment Incentive list, but are new/innovative or project/facility specific.
Incentives for Qualifying Equipment and Projects
Financial incentives are available for large and small projects. These incentives offset some — or maybe even all! — of the added cost to purchase qualifying energy-efficient equipment, which provides significant long-term energy savings. Ranges of incentives are available for qualifying equipment (depending on type, size, and efficiency) in several categories.
Find out more about equipment incentives
For specific details on equipment requirements and financial incentives, including incentives for equipment not listed here, contact a program representative. Fiscal year financial incentives may be limited to a maximum of $500,000 per customer utility account and are available as funding permits.