Biopower
Special Notice:
Board Staff and the Market Manager have issued a Straw Proposal for the FY2016 Sustainable Biopower Incentive Program, which may be found here, along with the public comments on the Proposal that were submitted through November 16, 2015. Staff intends to present its program recommendations to the Board at one of its regularly scheduled agenda meetings. Please check back here periodically for more details regarding the FY2016 program.
In working towards the adoption of biomass conversion to electricity as a New Jersey Class I renewable energy source, New Jersey's Clean Energy Program has been providing financial incentives and registration for renewable energy certificates (RECs) to biopower projects built in New Jersey since 2002.
To be eligible for incentives, projects must generate electricity (and thermal energy, if a CHP system is proposed) with sustainable Class I biomass resources as defined in N.J.A.C. 14:8-2.5. Projects designed to operate on any combination of sustainable biomass and any other feedstock not specifically designated as sustainable biomass in N.J.A.C. 14:8-2.5 are ineligible for this program but may be eligible for incentives under the NJCEP's Commercial and Industrial CHP/Fuel Cell Program or the New Jersey Energy Resilience Bank.
Some of the biopower projects that have received incentives under this program in recent years include those at wastewater treatment plants that generates electricity and thermal energy from the biogas produced by the anaerobic digestion of sewage sludge, and those at landfills where electricity is generated with the methane produced from the decay of organic materials in the landfills. Projects generating electricity from certain types of wood waste, sustainably grown energy crops, or agricultural waste from crops or livestock may also be eligible for incentives.
Benefits of Biopower
Turns waste into resources
Provides a renewable source of electricity
Reduces use of fossil fuels
Promotes biopower industries
More on Biopower
Sustainable Biomass Solicitation Results
FY2014
Trenton Biogas LLC submitted the only application in this Solicitation, proposing a 1,137 kW CHP project at the Mercer County Regional Sludge Management facility in Trenton. The Solicitation Evaluation Committee (Committee) denied the application for failing to satisfy the Solicitation's eligibility requirements on net metering and interconnection and for failing to submit a signed contract for the system's installation.
FY2015 - Round One
Applications were submitted by the Gloucester County Utilities Authority (GCUA) for a 1,266 kW CHP project at its Water Pollution Control Facility in West Deptford, and by the Village of Ridgewood for the construction of a micro-grid from its existing CHP system to an adjacent public water well. In an Order dated March 18, 2015, the Board accepted Staff's and the Solicitation Evaluation Committee's recommendation to deny GCUA's application for failing to meet the Solicitation's eligibility requirement of having 100% of the feedstock derived from a Class 1 biomass resource, and to deny Ridgewood's application due to missing or incomplete documents and inconsistent technical information.
FY2015 - Round Two
GCUA resubmitted its application with modifications to address the 100% Class 1 feedstock issue cited in the denial of its Round One application. In an Order dated June 17, 2015, the Board accepted Staff's and the Solicitation Evaluation Committee's recommendation to deny GCUA's application because it failed to achieve a minimum threshold score on the Solicitation's evaluation criteria.
Biopower Feasibility Studies
During 2012 and 2013 incentives were provided to the following entities to help them conduct biopower feasibility studies. Please note that feasibility study incentives are no longer offered.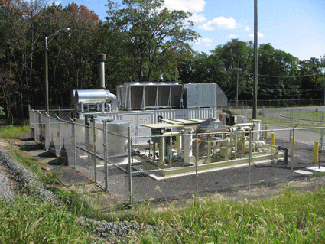 Monmouth County's 1 MW sustainable biopower project produces enough energy to support their Materials Processing and Recovery Facility.