Biopower
Special Notice:
The second FY2015 Sustainable Biopower Competitive Solicitation is now closed. Please check back for more details regarding the next solicitation.
Sustainable biopower technologies are eligible for financial incentives through New Jersey's Clean Energy Program. These biopower technologies use a renewable supply of organic material (biomass) to produce electricity, thus reducing our dependence on fossil fuels while promoting local business and farming.
The organic matter that makes up plants is known as biomass. Biomass can be used to produce electricity, transportation fuels, or chemicals. The use of biomass for any of these purposes is called biomass energy or biopower. New Jersey supports "sustainable biomass".
Wood is the largest biomass energy resource today, but other sources of biomass can also be used. They include food crops, grassy and woody plants, residues from agriculture or forestry, and the organic component of municipal and industrial wastes. Even the fumes from landfills (methane, a natural gas) can be used as a biomass energy source to produce biopower.
Benefits of Biopower
Turns waste into resources
Provides a renewable source of electricity
Reduces use of fossil fuels
Promotes biopower industries
More on Biopower
Sustainable Biomass Solicitation Results
FY2014
Trenton Biogas LLC submitted the only application in this Solicitation, proposing a 1,137 kW CHP project at the Mercer County Regional Sludge Management facility in Trenton. The Solicitation Evaluation Committee (Committee) denied the application for failing to satisfy the Solicitation's eligibility requirements on net metering and interconnection and for failing to submit a signed contract for the system's installation.
FY2015 - Round One
Applications were submitted by the Gloucester County Utilities Authority (GCUA) for a 1,266 kW CHP project at its Water Pollution Control Facility in West Deptford, and by the Village of Ridgewood for the construction of a micro-grid from its existing CHP system to an adjacent public water well. In an Order dated March 18, 2015, the Board accepted Staff's and the Solicitation Evaluation Committee's recommendation to deny GCUA's application for failing to meet the Solicitation's eligibility requirement of having 100% of the feedstock derived from a Class 1 biomass resource, and to deny Ridgewood's application due to missing or incomplete documents and inconsistent technical information.
FY2015 - Round Two
GCUA resubmitted its application with modifications to address the 100% Class 1 feedstock issue cited in the denial of its Round One application. In an Order dated June 17, 2015, the Board accepted Staff's and the Solicitation Evaluation Committee's recommendation to deny GCUA's application because it failed to achieve a minimum threshold score on the Solicitation's evaluation criteria.
Biopower Feasibility Studies
During 2012 and 2013 incentives were provided to the following entities to help them conduct biopower feasibility studies. Please note that feasibility study incentives are no longer offered.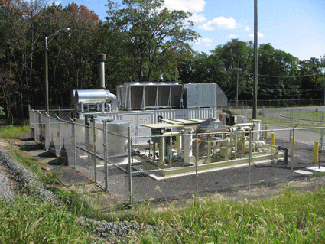 Monmouth County's 1 MW sustainable biopower project produces enough energy to support their Materials Processing and Recovery Facility.