Biopower
Special Notice:
The second FY 2015 Sustainable Biopower Competitive Solicitation is now closed. Please check back for more details regarding the next solicitation.
Sustainable biopower technologies are eligible for financial incentives through New Jersey's Clean Energy Program. These biopower technologies use a renewable supply of organic material (biomass) to produce electricity, thus reducing our dependence on fossil fuels while promoting local business and farming.
The organic matter that makes up plants is known as biomass. Biomass can be used to produce electricity, transportation fuels, or chemicals. The use of biomass for any of these purposes is called biomass energy or biopower. New Jersey supports "sustainable biomass".
Wood is the largest biomass energy resource today, but other sources of biomass can also be used. They include food crops, grassy and woody plants, residues from agriculture or forestry, and the organic component of municipal and industrial wastes. Even the fumes from landfills (methane, a natural gas) can be used as a biomass energy source to produce biopower.
Benefits of Biopower
Turns waste into resources
Provides a renewable source of electricity
Reduces use of fossil fuels
Promotes biopower industries
More on Biopower
Biopower Feasibility Studies
During 2012 and 2013 incentives were provided to the following entities to help them conduct biopower feasibility studies. Please note that feasibility study incentives are no longer offered.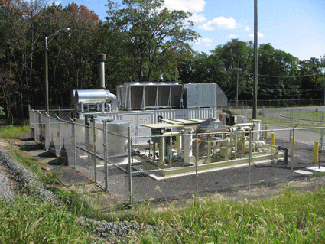 Monmouth County's 1 MW sustainable biopower project produces enough energy to support their Materials Processing and Recovery Facility.