Biopower
Special Notice:
Applications are now available for the FY 2015 Sustainable Biopower Competitive Solicitation, which is open from October 23, 2014 through December 22, 2014 at 5 p.m. The forms are available.
Listen to the November 13th webinar and presentation, which provided detailed instructions on how to apply for the FY 2015 Sustainable Biopower Competitive Solicitation. Questions and answers from the webinar are available.
The Market Manager will accept program applications for review on a competitive basis between the issuance date of this Solicitation and 5:00 pm EST on December 22, 2014. The chronological order in which applications are received will not factor into the evaluation process. Applications received after the submittal deadline will not be considered for this round of the Solicitation and will be returned by mail to the Applicant.
Applicants must include all completed forms and all other items listed on the REIP Biopower Application Checklist. The Checklist and all forms are available online and also in Appendices A, B, C and D of this Solicitation. Original signatures are required on at least one copy of the Application packet.
Applicants should mail or hand-deliver one (1) original hard copy and four (4) electronic copies of the completed REIP Application packet in a digital format (CD, DVD or thumb drive). Please ensure that all electronic documents are individually scanned and identified as they appear on the Biopower Application Checklist. Any documents that are faxed or emailed will not be accepted. Please send all materials to:
Renewable Energy Incentive Program – Biopower Solicitation
New Jersey Clean Energy Program
c/o Conservation Services Group
75 Lincoln Highway, Suite 100
Iselin, NJ 08830
Sustainable biopower technologies are eligible for financial incentives through New Jersey's Clean Energy Program. These biopower technologies use a renewable supply of organic material (biomass) to produce electricity, thus reducing our dependence on fossil fuels while promoting local business and farming.
The organic matter that makes up plants is known as biomass. Biomass can be used to produce electricity, transportation fuels, or chemicals. The use of biomass for any of these purposes is called biomass energy or biopower. New Jersey supports "sustainable biomass".
Wood is the largest biomass energy resource today, but other sources of biomass can also be used. They include food crops, grassy and woody plants, residues from agriculture or forestry, and the organic component of municipal and industrial wastes. Even the fumes from landfills (methane, a natural gas) can be used as a biomass energy source to produce biopower.
Benefits of Biopower
Turns waste into resources
Provides a renewable source of electricity
Reduces use of fossil fuels
Promotes biopower industries
More on Biopower
Biopower Feasibility Studies
During 2012 and 2013 incentives were provided to the following entities to help them conduct biopower feasibility studies. Please note that feasibility study incentives are no longer offered.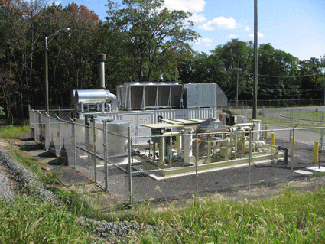 Monmouth County's 1 MW sustainable biopower project produces enough energy to support their Materials Processing and Recovery Facility.