Appliance Recycling Program
The Appliance Recycling and Bulk Recycling Programs will no longer be available from New Jersey's Clean Energy Program beginning July 1, 2021. Please contact your utility for more information about available recycling programs.
To learn more about this transition and for utility contact information please visit this page.
You can responsibly recycle your working refrigerator and/or freezer and earn a $50 incentive! You'll be glad to know that approximately 95% of each appliance is recycled. We safely dispose of hazardous chemicals, minimizing waste and environmental impact.
Recycling Makes Sense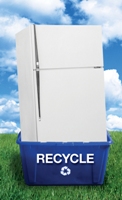 Consider these facts:
On average a newer refrigerator or freezer consumes 1,000 fewer kWh annually than one manufactured before 1990.
Recycling 20,000 older refrigerators or freezers saves enough energy to power approximately 1,400 homes, equivalent to removing 40,000 cars from the road for one year.
To date New Jersey residents have recycled over 65,000 units, saving approximately 65,000 megawatt hours of electricity, enough to power 4,550 homes a year.
Upgrading can save up to $150 a year on energy costs. Find out how much your refrigerator or freezer costs to run.
Bulk Appliance Recycling
The Bulk Appliance Recycling Program may be available. Contact your utility company for more information.