ENERGY STAR® Clothes Washers
The average American f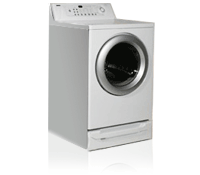 amily washes almost 300 loads of laundry each year. Families are able to reduce their energy and water costs by purchasing a clothes washer that is ENERGY STAR qualified. These washers use on average 25% less energy and 40% less water than conventional models and costs on average $60 a year to run.
If you are buying a clothes dryer at the same time - don't forget we've got rebates on those too!
Clothes Washer Rebate Requirements
Rebate Amounts
Qualifying Models
$50 and $75
Product List
To be eligible for a rebate, the model number you purchase must be included on the product list above.
Applications
Please note the address to send all applications has changed to the following:
NJCEP Appliance Rebate
75 Lincoln Highway, Suite 100
Iselin, NJ 08830
Retailer Instant Rebates
A limited number of stores are able to provide rebates instantly at the register. If you received an instant rebate at the register, you do not qualify for the mail-in or online rebate.
Additional Opportunities to Save
Are you wondering what other rebates might be available? Visit our Rebates and Promotions page.
Questions?
Contact us at 866-NJSMART or submit your question online. Allow up to 180 days to receive a rebate.
Frequently Asked Questions about the clothes washer rebate are also available.