ENERGY STAR® Refrigerators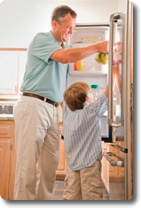 New Jersey residents can receive a rebate up to $75 for the purchase of a select ENERGY STAR Most Efficient refrigerators. And receive another $50 for recycling your old, working unit. Find out more info and learn how to Flip Your Fridge!
Replace your old fridge for bigger savings!
An estimated 170 million refrigerators and refrigerator/freezers are currently in use in the United States. More than 60 million refrigerators are over 10 years old, costing consumers $4.4 billion a year in energy costs.
Use the ENERGY STAR Savings Calculator to find out exactly how much money you'll save by replacing your existing refrigerator.
Refrigerator Rebate Requirements
Efficiency Criteria
Rebate Amounts
Qualifying Models
Compact (<7.75 cu feet) and Baseline ENERGY STAR

$25
Product List
Baseline ENERGY STAR
$50
Product List
ENERGY STAR Most Efficient
$75
Product List
To be eligible for a rebate, the model number you purchase must be included on the product list above, and you must be a customer of one of the following electric utility companies: JCP&L, PSE&G, Atlantic City Electric or Rockland Electric.
Applications
If submitting a paper application, please send it in the mail. Do not hand deliver it. Thank you.
Retailer Instant Rebates
A limited number of stores are able to provide rebates instantly at the register. If you received an instant rebate at the register, you do not qualify for the mail-in or online rebate.
Additional Opportunities to Save
Are you wondering what other rebates might be available? Visit our Rebates and Promotions page.
Questions?
Contact us at 866-NJSMART or submit your question online. Allow up to 120 days to receive a rebate.