New Jersey's Energy Efficiency Program Transition
Transición del Programa de Eficiencia Energética de Nueva Jersey
In 2018, Governor Murphy signed into law the landmark legislation known as the Clean Energy Act. The law called for a significant overhaul of New Jersey's clean energy systems by building sustainable infrastructure in order to fight climate change and reduce carbon emissions, which will in turn create well-paying local jobs, grow the state's economy, and improve public health while ensuring a cleaner environment for current and future residents.
As part of this statewide undertaking, the Clean Energy Act required New Jersey's investor-owned gas and electric utility companies to reduce their customers' use of gas and electricity by set percentages over time. To help reach these targets, the New Jersey Board of Public Utilities approved a comprehensive suite of efficiency programs that would transition the state to some of the highest energy savings in the country.
These "next generation" energy efficiency programs feature new ways of managing and delivering programs historically administered by New Jersey's Clean Energy Program™ (NJCEP). While NJCEP will continue to offer some energy efficiency programs, all of the investor-owned gas and electric utility companies will now also offer complementary energy efficiency programs directly to their customers, as shown below.
Please visit this site regularly, browse the below Frequently Asked Questions (FAQs), and join our Energy Efficiency Listserv for additional details and the latest information.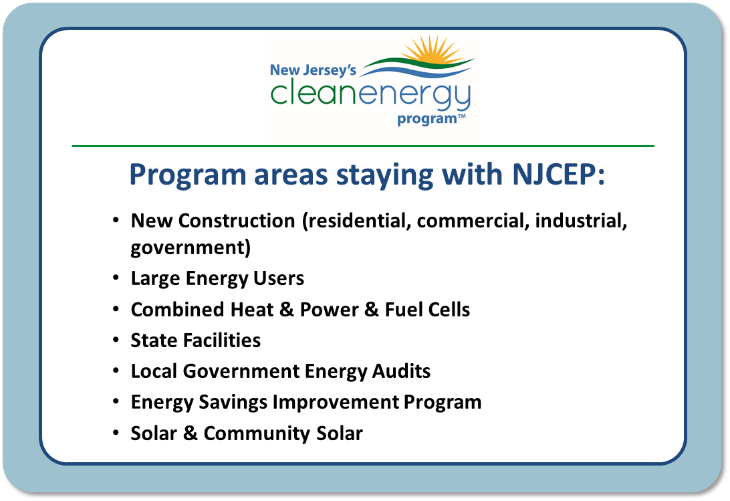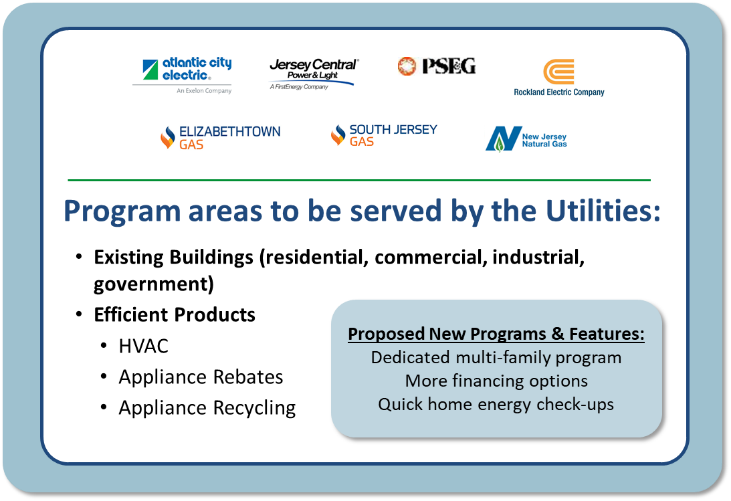 Why will some energy efficiency programs now be managed by the utility companies?
The transition of the administration of certain energy efficiency programs from NJCEP to the utilities is in accordance with the mandates from the Clean Energy Act of 2018. These new programs will allow the utilities to work directly with customers to achieve energy savings. The Board considered the following in establishing this transition:
Programs that rely heavily on contractors' use will be handled at the utility level, where the utility companies can build strong relationships and lead co-branded advertising and marketing efforts.
Utilities will handle programs that rely on customer data or advanced metering infrastructure (AMI) to streamline customer data access layers and minimize the sharing of data to protect customer privacy.

Utilities are well-suited to deliver certain energy efficiency programs, such as those that are based on existing customer relationships and that rely on utility data and systems.
Certain programs are best delivered on a consistent statewide basis, whereas others may still be effective when modified for each utility territory.
Utility administration works best for programs that can leverage utilities' knowledge of energy consumption, customer demographics, workforce infrastructure, and existing customer relationships within their service territories. Utility access – and increased customer access – to energy use data enables the design of more personalized services and programs, targeted outreach, and individualized solutions for customers.
Utilities can offer flexible financing options such as on-bill repayment.
Customers may have more "brand awareness" and direct communication with their utility, facilitating the broader adoption of energy efficiency measures.
Which energy efficiency programs will continue to be administered by NJCEP, and which will be administered by the utilities?

NJCEP will continue to administer the new construction programs for commercial and industrial (C&I), residential, and government customers. NJCEP will also continue offering the Residential New Construction, Large Energy Users, Combined Heat & Power & Fuel Cells, and Solar & Community Solar Programs, as well as the Local Government Energy Audit Program, the Energy Savings Improvement Program, and energy efficiency opportunities for state government facilities. The utilities will be responsible for all programs serving existing buildings for all sectors (C&I, residential, and government), as well as for energy efficient product rebates and recycling and the creation of a new program to better serve the needs of multi-family customers.

When will the program transition take place?
The Board is currently reviewing the utilities' program proposals and, thus far, has approved New Jersey Natural Gas programs; new utility programs are expected to start rolling out in July 2021. The Board has also already approved new PSE&G programs, which are being launched in a phased approach between September 2020 and spring 2021.

Does this transition affect low- and moderate-income customers?
Yes, the transition will ultimately expand the number of programs tailored for low- and moderate-income customers. NJCEP's existing low- and moderate-income energy efficiency program, Comfort Partners, will continue to be co-managed between NJCEP and the utility companies. In addition, as a result of the transition, more programs will be introduced that will be available to low- and moderate-income customers.
How do I identify my energy utility company?
Enter your address into our GIS utility finder to identify your gas and/or electric utility provider. Utilities are often referenced in this and other documents by the below acronyms:
Electric providers:
ACE Atlantic City Electric
JCPL Jersey Central Power and Light
PSE&G Public Service Electric and Gas
RECO Rockland Electric
Gas providers:
ETG Elizabethtown Gas
NJNG New Jersey Natural Gas
PSE&G Public Service Electric and Gas
SJG South Jersey Gas
What happens to my project that is already submitted and in the NJCEP pipeline? Will I get paid?
Yes. NJCEP will continue to process all eligible projects in the pipeline and will facilitate the payment as planned even after the program is closed to new applications. There is no action needed on your part for the project to continue to move forward with NJCEP.
Can I apply to both my utility's program and NJCEP for the same equipment?
In general, equipment can only receive one rebate. If your utility has a program that has already launched, then you should apply for a rebate through the utility program. If your utility's program has not yet launched, then you should apply for a rebate through NJCEP. The exception to this rule would be the existing energy efficiency programs at New Jersey Natural Gas, Elizabethtown Gas, and South Jersey Gas that currently allow for customers to access rebates from both programs in accordance with established rules. New projects submitted on or after July 1, 2021 would only be entitled to utility rebates from these utilities.

What if I have multiple project sites in different utility territories?
The majority of the utility programs are being designed to provide a consistent experience throughout the state. If you are a large commercial customer, consider using the Large Energy Users Program, which will still be run by NJCEP. Other program applications should be submitted to the applicable utility for each site.
Can I pursue Home Performance with ENERGY STAR® (HPwES) residential projects with my utility's program?
Yes. Residential (single-family and multi-family) customers will be able to pursue comprehensive, whole house projects through the utilities' HPwES programs.
Can I pursue comprehensive business/commercial/industrial/local government projects with my utility's program?
Yes. Comprehensive programs for existing buildings will be available from the utilities for these sectors. The Direct Install program will continue to be available through the utilities for small non-residential customers, and other utility programs will be available to support comprehensive energy efficiency projects.
If I am working on a comprehensive project, will I have to apply to both my electric and gas utility for incentives?
No. The utilities are working collaboratively to develop a system to allow you to work with your utility (or utilities) to be able to access incentives for both fuels. They will handle the administration behind-the-scenes so you can access the full incentive without extra paperwork.
Who should I call or email with questions?
If you have questions about the transition, please contact Transition@NJCleanEnergy.com or the NJCEP call center at 866-NJ-SMART.
Follow New Jersey's Clean Energy Program on Facebook and Twitter for the latest information. More information will be posted here as it is available.