Offshore Wind

Contents
NJ Governor Phil Murphy Releases Offshore Wind Solicitation Schedule to Meet New 2035 Goals
On February 28, 2020, the Murphy Administration announced the offshore wind solicitation schedule to meet the 7,500 MW offshore wind goal by 2035 and called upon the NJ Board of Public Utilities to take all necessary actions to implement the schedule. To be responsive to the evolving offshore wind market, the schedule has been developed to provide flexibility in terms of the amount being procured with each solicitation and the exact timeline.
Solicitation
Capacity
Target (MW)
Issue Date
Submittal Date
Award Date
Estimated
Commercial Operation
1
1,100
Q3 2018
Q4 2018
Q2 2019
2024
2
1,200
Q3 2020
Q4 2020
Q2 2021
2027
3
1,200
Q3 2022
Q4 2022
Q2 2023
2029
4
1,200
Q2 2024
Q3 2024
Q1 2025
2031
5
1,400
Q2 2026
Q3 2026
Q1 2027
2033
6
1,400
Q2 2028
Q3 2028
Q1 2029
2035
New Jersey Establishes a New Goal for Offshore Wind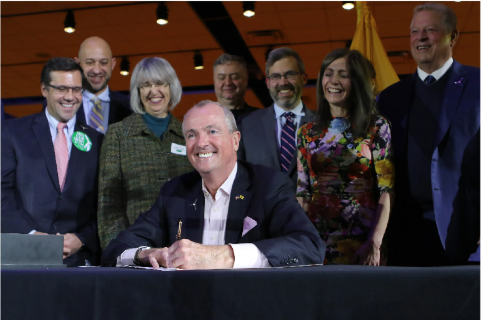 On November 19th, 2019, Governor Murphy, alongside Vice President Al Gore, signed Executive Order #92. This establishes a new offshore wind goal raising the original goal of 3,500 MW by 2030 to 7,500 MW by 2035. "There is no other renewable energy resource that provides us with either electric-generation or economic-growth potential of offshore wind… When we reach our goal of 7,500 megawatts, New Jersey's offshore wind infrastructure will generate electricity to power more than 3.2 million homes and meet fifty percent of our state's electric power need. Our offshore wind industry will generate billions of dollars in investments in New Jersey's future, that will in turn, create thousands of jobs. We have an immense opportunity to maximize our potential and make this region-and, specifically New Jersey- the nexus of the global offshore wind industry." – Governor Phil Murphy
NJBPU Announces the Winner of New Jersey's First Offshore Wind Solicitation
The New Jersey Board of Public Utilities is pleased to announce the winner of New Jersey's first offshore wind solicitation: Ørsted's Ocean Wind. This 1,100 megawatt (MW) solicitation is the largest single-state procurement of offshore wind electricity generation capacity in the U.S. to date.
"Today's historic announcement will revolutionize the offshore wind industry here in New Jersey and along the entire East Coast," said Governor Murphy. "Building our offshore wind industry will create thousands of jobs, invite new investments into our state, and put us on a path to reaching our goal of 3,500 MW of offshore wind by 2030. This award is a monumental step in making New Jersey a global leader in offshore wind development and deployment."
"Thanks to Governor Murphy's leadership and his trust in the NJBPU to deliver upon the important promise of offshore wind, today we have taken another important step forward into our 100 percent clean energy future," said NJBPU President Joseph L. Fiordaliso. "With today's award of 1,100 MW of offshore wind, a safer, healthier future for New Jersey is looking brighter and closer than ever."
More information about this historic award can be found by viewing the Board Order here.
A press release regarding this award can be viewed here.
With nearly 9 million residents packed into less than 9,000 square miles, New Jersey is the most densely-populated state in America. This creates land usage constraints and, when combined with other factors, can make constructing new power plants and associated electrical grid infrastructure quite challenging.
Thankfully, New Jersey has 130 miles of coastline that boasts strong and consistent winds. This renewable resource can be harnessed to generate clean, carbon-free electricity for the grid. Moreover, anchoring the offshore wind supply chain in New Jersey has the potential to create thousands of jobs and generate additional in-state economic opportunities.
What is the Federal Government's Role in New Jersey's Offshore Wind Industry?
The federal Bureau of Ocean Energy Management, within the Department of the Interior, initiates the American offshore wind leasing process by identifying Wind Energy Areas in federally-owned waters, which include all offshore areas that are between 3 and 200 miles from the U.S. coast.
After public involvement and environmental assessments, smaller sections of these Wind Energy Areas are designated as lease areas. The lease areas are then auctioned to offshore wind developers who further investigate the areas for project suitability. This information, along with other environmental, atmospheric, and marine resource data, helps offshore wind developers determine which type of turbine and how many to install, as well as where within the lease area they should be placed..

The Bureau of Ocean Energy Management's federal process for offshore wind development.
New Jersey's Offshore Wind Strategic Plan
New Jersey has developed its draft Offshore Wind Strategic Plan (OWSP), which will serve as a roadmap for progressing from the initial 1,100 MW to 7,500 MW of installed offshore wind capacity by 2035. New Jersey's development of offshore wind energy, together with other clean and renewable energy sources, will be critical to addressing the challenges associated with climate change and to building a clean energy economy. Governor Murphy has established an aggressive and achievable vision of 100% clean energy by 2050, and the OWSP helps set the course for New Jersey to achieve this vision through the responsible development of offshore wind energy. To do this, the OWSP focuses on (1) environmental and natural resource protection; (2) commercial and recreational fisheries; (3) supply chain and workforce development; (4) ports and harbors; (5) wholesale energy markets and transmission.
NJBPU has developed the OWSP with the support of a multi-disciplinary consultant team and the Inter-Agency Task Force on Offshore Wind. A draft OWSP and technical appendices was released for public comment on July 13, 2020 and these comments were received. A final OWSP is targeted for release in the third quarter of 2020.
Offshore Wind Interagency Task Force
At the direction of Executive Order No. 8, NJBPU convened and leads the New Jersey Offshore Wind Interagency Taskforce (IATF). The IATF facilitates interagency communication and coordination on offshore wind, and is comprised of the following agencies:
• Office of the Governor
• New Jersey Board of Public Utilities (lead agency)
• New Jersey Department of Environmental Protection
• New Jersey Economic Development Authority
• New Jersey Department of Labor and Workforce Development
• Department of the Treasury
NJBPU is committed to engaging with the public and stakeholders on New Jersey's offshore wind program. Stakeholder meetings were held on August 3, 2020 and August 5, 2020 on the draft OWSP and the draft guidance document for the second offshore wind solicitation, respectively. Information on these meetings is available here. Presentations and information from past events can be found here.
Please consider attending a stakeholder meeting or submitting comments to NJBPU at OSW.Stakeholder@bpu.nj.gov.
How does offshore wind energy work? from the U.S. Department of Energy
What is the Offshore Wind Supply Chain? Animated Infographic from the European Wind Energy Association
Top 10 things you didn't know about offshore wind energy from the U.S. Department of Energy
Wind Turbines in Extreme Weather: Solutions for Hurricane Resiliency from the U.S. Department of Energy
Stay up-to-date on NJBPU news here, and follow @NJCleanEnergy on Facebook and Twitter and @NJBPU on Facebook, Twitter, LinkedIn, and Instagram.
1,100 MW Offshore Wind Solicitation and Guidance
Information related to NJBPU's initial 1,100 MW solicitation for offshore wind energy capacity can be found here.
Historical Information can be found here.