Selecting a Contractor
Below are questions you should consider in order to make the most informed decision.
Who sells and installs solar electric systems?
For a list of installation contrac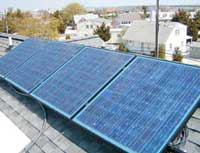 tors who specialize in solar electric systems, visit the "Find an Installer" section of this website. You can also find information on contractors at nesea.org and seia.org. Additionally, installation contractors and electrical contractors who are familiar with solar electric system requirements may be listed in the telephone directory under "Solar Energy Equipment and Systems - Dealers." (Note that some of the listings may be for solar water-heating contractors who may not be experienced in solar electric system design and installation.)
How do I choose an installation contractor?
Compile a list of prospective contractors. You may want to consider those closest to you first because the contractor's travel costs could add to the system price. Ask contractors what products and services they offer. Their answers to the following questions should give you a good sense of their capabilities:
Has the contractor previously installed solar electric systems and if so, how many? Experience is important because the contractor should understand the unique elements of installing solar electric systems — particularly interconnection with your electric utility.


Is the contractor properly licensed? A solar electric system should be installed by a qualified contractor or subcontractor with an electrical contractor's license. Local building departments may also require the installer to have a general contractor's license. Call your city or county building department for additional licensing information.

Is the contractor the subject of any pending or active judgments or liens? This can be verified by the New Jersey Board of Examiners of Electrical Contractors License Verification Line at 973-273-8090. You can also obtain information from city and county governments, as well as the Better Business Bureau (BBB).
How do I choose among competing installation bids?
If you obtain multiple bids, each should be prepared on the same basis. For instance, a bid for a ground-mounted system is not the same type of bid as one for a rooftop system. Bids should clearly state the system capacity in both DC and AC watts. You should also request an estimate of the system's annual energy production (measured in kilowatt-hours). Your estimate may be presented as a range of up to ±20%. Bids should include the total cost, including hardware, installation, utility interconnection, permitting and warranty. The warranty is a very important factor in bid evaluation, as New Jersey's Clean Energy Program requires systems to be covered by at least a five-year warranty.
Follow these links for additional information: