ENERGY STAR® Clothes Dryers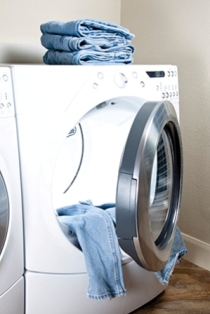 ENERGY STAR certified clothes dryers use 20 percent
less energy than conventional models without sacrificing features or performance. They do this by using innovative energy saving technologies, such as moisture sensors that detect when clothes are dry and automatically shut the dryer off. Many ENERGY STAR dryers also include convenient features, such as steam cycles that can help save time on ironing clothes by preventing wrinkles. New Jersey's Clean Energy Program offers a $100 or $300 rebate on the purchase of ENERGY STAR certified and ENERGY STAR Most Efficient qualified clothes dryers.
If you are buying a clothes washer at the same time - don't forget we've got rebates on those too.
Clothes Dryer Rebate Requirements
Efficiency Criteria
Rebate Amounts
Qualifying Models
Baseline ENERGY STAR
$100
Product List

ENERGY STAR Most Efficient

$300
Product List
To be eligible for a rebate, the model number you purchase must be included on the product list above.
Applications
If submitting a paper application, please send it in the mail. Do not hand deliver it. Thank you.
Retailer Instant Rebates
A limited number of stores are able to provide rebates instantly at the register. If you received an instant rebate at the register, you do not qualify for the mail-in or online rebate.
Additional Opportunities to Save
Questions?
Contact us at 866-NJSMART or submit your question online. Allow up to 120 days to receive a rebate.