ENERGY STAR® Clothes Washers
The average American f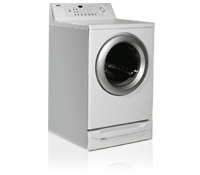 amily washes almost 300 loads of laundry each year. Families are able to reduce their energy and water costs by purchasing a clothes washer that is ENERGY STAR qualified. These washers use on average 25% less energy and 40% less water than conventional models and costs on average $60 a year to run.
If you are buying a clothes dryer at the same time - don't forget we've got rebates on those too.
Clothes Washer Rebate Requirements
Efficiency Criteria
Rebate Amounts
Qualifying Models

Front Load -
IMEF* >= 2.75; IWF**<=3.7

Top Load -
IMEF>=2.06; IWF<=4.3

$50
Product List

Front Load or Top Load:
IMEF>=2.92; IWF<=3.2

$75
Product List
*IMEF = Integrated Modified Energy Factor
**IWF = Integrated Water Factor
All units should be >= 2.5 cubic feet
To be eligible for a rebate, the model number you purchase must be included on the product list above.
Applications
Retailer Instant Rebates
Additional Opportunities to Save
Are you wondering what other rebates might be available? Visit our Rebates and Promotions page.
Questions?
Contact us at 866-NJSMART or submit your question online. Allow up to 120 days to receive a rebate.
Frequently Asked Questions about the clothes washer rebate are also available.