Pay for Performance Portal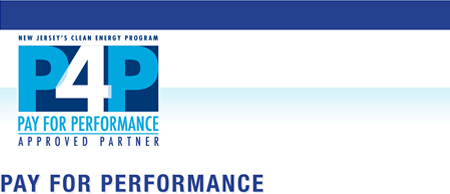 PARTNER TRAINING WEBINARS
To access the webinar course, go to www.njcelc.com
In the top menu bar, select Commercial, then click on P4P New Construction course. It will prompt you to first create an account.
A completion certificate will be generated once the course and assessments are complete (8/10 score required for each assessment)
Course is broken out into short modules, which allows you to complete the entire course at your own pace, or only review certain sections.
Welcome to the Pay for Performance partner portal. This page contains important announcements, tools and links to assist you in delivering Pay for Performance to qualified customers. The use of this portal, and all of the included documents and tools, is restricted to Pay for Performance partners on the currently approved list. Below are links that can you take you directly to your area of interest:
Sign up for the P4P email list to receive updates about the latest program offerings and relevant information about program activities.
Existing Buildings:[Note, this program has been replaced by programs now administered by the local investor owned-utility companies. Please reach out to your utility company for information on available programs for your new projects. More information regarding utility contacts can be found here. The documentation below is for use by projects already enrolled in the program prior to the transition.]

ERP Development
Installation
Savings Verification
Reference
New Construction

Initial Application
ERP Development
Reference
Partner Call Minutes and Important Notices
Indemnification Notice:
By using any of the materials listed above, Partners indemnify, defend and hold the NJ Board of Public Utilities, C&I Program Manager and their directors, officers, employees and agents (including, but not limited to, affiliates, contractors and their employees), harmless from and against all liabilities, damages, losses, penalties, claims, demands, suits and proceedings of any nature whatsoever that arise out of the use of these materials.